Hydrafacial
Conveniently located to serve the areas of Berkeley, CA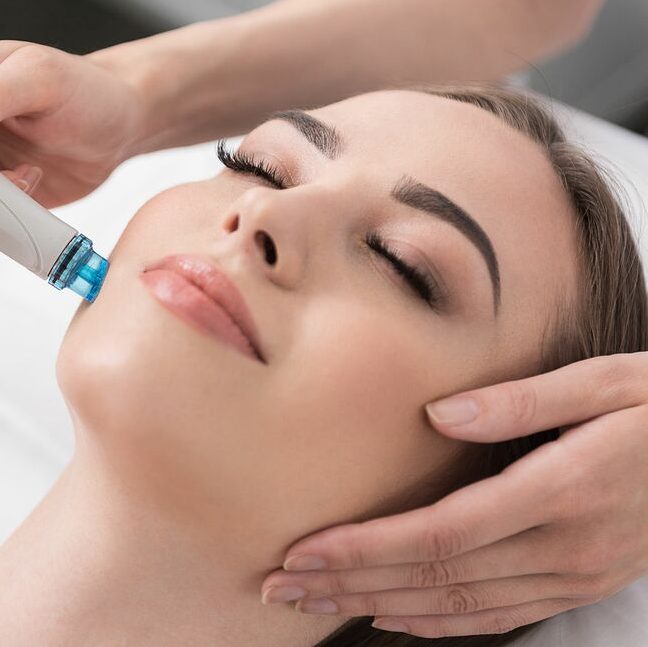 While following a daily regimen of proper skincare is essential, there are limits to what you can do from the comfort of your home. Diminishing fine lines and wrinkles due to aging, the environment, and sun exposure takes time and dedication. But there is a facial rejuvenation treatment used by dermatologists and medical spas—including Nubo Spa—available to clients that expedites the process of returning your skin to its natural state. The treatment is aptly called HydrafacialⓇ, and here's why.
What Is A Hydrafacial?
Hydrafacial is a patented skincare treatment that's applicable for all skin types—even highly sensitive skin. This non-invasive procedure involves a microdermabrasion-like exfoliation used in conjunction with hydration serums.
Using a patented device, Hydrafacial system exfoliates dead skin cells, cleanses, moisturizes, and extracts toxins from the obstructed pores in the skin while bathing it in serums rich with antioxidants, peptides, and moisturizers.
Procedure Ins And Outs
Hydrafacial utilizes a mechanized wand with a vacuum-like tip that performs three separate actions to the skin surface: the physical exfoliation from focused water pressure and texturized device tip; the chemical exfoliation performed by acids including salicylic and glycolic, and the suctioning of dead skin cells from the surface of your face.
Treatment begins with the water-based solution applied to the skin to break down the initial skin layer. The device's suctioning tip then gently extracts blackheads, dirt, oil, and other impurities. Once the surface layer is cleared, a chemical peel is applied, targeting sub-surface layers not penetrated by the initial water-based solution. Finally, the customized treatment serums are delivered using the same pressurized technique and application.
Through the non-invasive resurfacing procedure, multiple skin layers that have become compromised by age, oil, dirt build-up, and sun damage are rejuvenated. In addition to being hydrated, the skin receives an enviable radiance once the treatments are completed through the application of water-based solutions. Clients who opt for the Hydrafacial treatment can expect the following results:
Softened wrinkles and fine lines
Diminished hyperpigmentation
Corrected uneven skin tones
Replenished and hydrated skin
Elimination of damaged skin
Smoothed facial texture
Pore decongestion
Brown spot removal
Skin tightening
Puffiness reduction
Keeping You In The Loop
Hydrafacial treatments follow a personalized program devised during your initial consultation. The painless treatments are performed in 30-, 60-, or 90-minute timeframes. Through several supplemental attachments, the Hydrafacial device uses suction and delicate motion techniques to enhance lymphatic drainage and revamp skin circulation.
Following the procedure, you'll notice on-the-spot results. The skin will feel smoother, more supple, and with an increased level of hydration as a result of the combination of hydrating agents and exfoliating components. You may also notice a slight reduction in puffiness due to lymphatic drainage. The use of nutrient-laden serums may also temporarily plump up fine lines and wrinkles, diminishing their appearance.
Hydrafacial treatments are perfect for clients frustrated with years of topical solutions that haven't resolved the lingering issues. Fortunately, the Hydrafacial treatment is a safe and effective option for anyone wishing for smoother, hydrated skin in little time. For best results, clients are encouraged to undergo a Hydrafacial once per month.
Why Choose Nubo Spa?
Complexion imperfections and damaged skin can hinder your quality of life. Nubo Spa has trained specialists who are skilled in Hydrafacial treatments. If the Hydrafacial and its vast array of purifying benefits are of interest to you, ask your care specialist about this non-invasive procedure during your initial consultation. It's time to take action and get the clear skin you've always desired.