Facials
Conveniently located to serve the areas of Berkeley, CA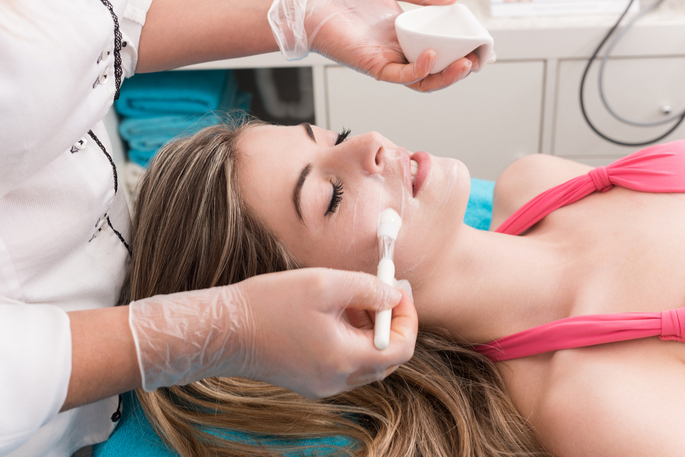 Nubo Spa provides facials in Bay Area to rejuvenate and refresh skin, whether it's generating a refreshed, revitalized glow, or targeting dry skin, acne or enlarged pores. Our aestheticians will meet with you and discuss your goals, concerns and skincare needs.
We also provide medical facials, a more advanced treatment that utilizes medical-grade skin products and higher-level techniques to target and address dark spots, scars, aging and sun damage.
What Is A Medical-grade Facial?
A medical-grade facial is designed to repair and restore your skin. It uses medical-grade skincare products and equipment to achieve a healthy look and feel. Also called a medi-facial, this treatment targets your specific skin challenges.
This includes fine lines and wrinkles, sunspots or pigmentation concerns, difficulties with texture and tone, rosacea and acne. Medical-grade facials may use IPL, chemical peels, LED blue light or brightening to greatly enhance and repair your skin.
What Benefits Can You Receive From A Facial?
A facial has a broad range of outstanding benefits. 
Deeply cleanses and exfoliates your skin
Reduces stress and improves relaxation
Evens skin tone and texture
Moisturizes and refreshes dry skin
Tightens skin
Rejuvenates and revitalizes the skin
Provides skin detoxification
Improves blood circulation
Reduces acne
Removes blackheads and whiteheads
Reduces the size of pores
Reduces eye bags and circles
Provides customized and targeted treatments for your unique skin care needs
Nubo Spa offers a series of medical-grade facials. Let's jump right into your options.
** Indicates massage and extractions not included
+ Indicates medical grade
* Indicates chemical peel
Sensitive Skin Treatment+
Procedure Duration: 60 min
This treatment begins with gentle extractions, an application of balancing toner to boost hydration, and an enriched mask to calm redness and irritation. This is followed by applying a gentle facial cleanser. The treatment finishes with is a dab of Lite Lytic Tx to improve skin texture, and a lovely renewing eye and face cream. *Optional treatment amplifier: A cool quartz facial roller used over Lite Lytic Tx for enhanced skin serenity.
Age-defying Treatment+*
Procedure Duration: 60 min
This option kicks off with a cleanser catered to your particular skin type. We then provide a steam treatment combined with a gentle facial scrub to exfoliate and polish away dead surface cells, prepping the skin for extractions. The treatment continues with a mask and concentrated serum for both eyes and face, each catered to your particular skin type.
Nourish And Hydrate+
Procedure Duration: 60 min
Right off the bat, you're given a double cleanse containing ceramides, essential oils, and an amino acid solution, giving a deep cleanse and locking in moisture. The treatment continues with two masks with corrective and restorative layers. Next comes a triple antioxidant serum that protects against environmental damage (effective for 72 hrs) and penetrates deeper into the skin, using jade rollers. Our highly effective and popular Triple Lipid Restore is massaged into your skin for a concentration of pure lipids.
Nubo Express+
Procedure Duration: 30 min
This treatment uses a refining gel cleanser, hydrating mask infused with Vitamin B5, moisturizing serum enriched with Vitamin B5, and a pore-minimizing moisturizer infused with Vitamin E. Finally, a steamed towel with a touch of essential oil is provided to relax and prepare skin for absorption of products after the initial cleanse.
Brightening Treatment+*
Procedure Duration: 60 min
Beginning with a light steam exfoliation for comfortable extractions, a double cleanse follows. Our Vitamin C mask will then tighten, detoxify, and provide additional exfoliation. Then we apply a high-performing antioxidant (72 hr effectiveness) that regulates pigment, enhances radiance, and accelerates cellular turnover. Using lymphatic massage techniques, an application of a retexturing activator combined with an advanced pigment corrector is placed on your skin. Putting this facial into corrective overdrive is a moisturizer, visibly correcting early signs of photo-aging is applied to your face and neck. **Optional treatment amplifiers: Retinol 0.5 to be applied in p.m. or LED Brightening performed during Vitamin C mask.
Acne Clearing Treatment+*
Procedure Duration: 60 min
An exfoliating foam cleanser unclogs pores and brightens skin, then a mild gel peel is applied to pores congested with oil and debris. The peel makes extractions gentle and encourages cell renewal. Next, a high-quality, skin-refining mask infused with earth clays, gives a deep pore cleanse while soothing acne-inflamed skin. During the mask, you're treated to a neck, chest, and shoulder massage. The Phloretin CF is then applied as an environmental shield. Lastly, an oil-free serum works to prevent future breakouts and reduce excess oil production. **Optional treatment amplifiers: Retinol 0.5 to be applied in p.m. or LED Blue light to reduce acne-causing P. acnes bacteria.
Why Choose Nubo Spa?
When you come to one of our medical spa locations in Berkeley or Oakland, we make sure all options are on the table to ensure your customized treatment is perfectly constructed. Reach out to book your consultation, because there's no better time than now to solve lingering skin concerns.